Annual Fire Safety Statements, and Fire Safety Certificates Sydney

We are able to meet Council requirements for most suburbs of Sydney for a Fire Safety Certificate. NSW areas serviced include Sydney, Gosford, Newcastle, Upper Hunter, and many regional towns in NSW. We only use an "accredited practitioners (fire safety)". previously known as a competent fire safety practitioner, as required by the new regulations that came into force on 1 July 2020.


Priced from $295 - Get a Free Quote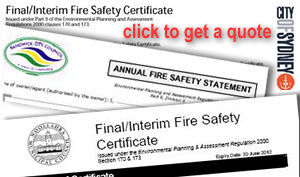 Price includes the inspection of up to 6 items (not including exit lights). The 6 items can be any of; extinguishers, hose reels, smoke alarms, fire doors, fire blankets or hydrants. If you have emergency or exit lights, they require a 90 minute test- add $77 (for up to 6 lights). Our tech will need to inspect and test all existing fire measures before issuing a certificate. It is possible he will find you need to replace, or get other items installed, to meet the Australian Standard. Therefore use the $295 as a guide. We can give you a free quote first.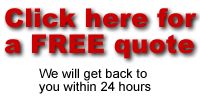 To place your interest in getting a fire safety compliance inspection or quote, please phone, or just fill in our contact us form. Call now on 02 65501066.

Our inspector will get in contact with you, to discuss your needs and give you a free quote.

Under the provisions of the NSW Environmental Planning and Assessment Regulation 2000 (EP & A Reg), owners of buildings have a legal obligation to supply the Commissioner of the NSW Fire Brigades with a copy of any Fire Safety Certificate or Annual Fire Safety Statement, listing the fire safety measures applicable to their building.




A Fire Safety Certificate is a certificate that is submitted by the building owner, certifing all essential fire safety measures (listed in the Fire Safety Schedule) have been installed in the building, and are capable of perfoming to the standard listed in the Fire Safety Schedule (usually the Australian Standard)

A Fire Safety Schedule can be issued with the Construction Certificate. The Fire Safety Schedule lists the essential fire safety measures that are to be installed in the building or on the land and the Australian and/or other Standards to which they must be installed.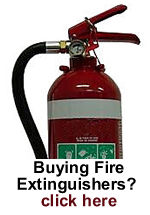 Every twelve months, after the Fire Safety Certificate is issued, an Annual Fire Safety Statement must be prepared and forwarded to Council, and to the local Fire Brigade. The Annual Fire Safety Statement must state that a competent fire safety practitioner has inspected and assessed the fire safety measures in the building, and found that the measures are capable of performing to the Australian standard . A copy of the statement or certificate must also be prominently displayed in the building. What are the dangers of not doing an Annual Fire Safety Statement?

Council makes the owner responsible for submitting and signing the Fire Safety Certificate and the AFSS. No matter what the lease says, fire compliance is ultimately the responsibility of the landlord. When you sign a Fire Safety Certificate or AFSS you are declaring that the premises meets the Australian Standard for fire safety and has been maintained and "assessed by competent fire safety practitioner".

Our technician is accredited under the FPAA scheme, and registered as an accredited practitioner (fire safety), as required under the new legislation which came into force on 1 July 2020. There are also new standardised forms that have to be used to submit your annual fire safety statement.

Clause 177 of the NSW Environmental Planning and Assessment Regulation 2000 states that it is an offence to fail to provide the statement. Escalating cumulative weekly penalty notices apply for this offence. eg; $1000 per week [June 16]

If you don't submit an Annual Fire Safety Statement it could lead to civil or criminal proceedings in the Land and Environment Court. The maximum penalty for a breach is $110,000. From 1 Dec 17 there is a particular form that must be used to submit the AFSS. Our tech will have it.

But more importantly, a failure to meet these requirements can put people's lives at risk, as well as having liability implications for the building owner. Not having your fire equipment properly inspected, and not lodging an Annual Fire Safety Statement, could possibly void your fire insurance!
Contact us for full service and maintenance of Fire extinguishers Sydney region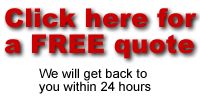 Fire Extinguisher Sales
40 Refinery Drive Pyrmont NSW 2009
PO Box 1171 Bowral NSW 2576
53a High St Taree NSW 2430 Australia
Phone 02 65501066
About us | Fire Extinguisher Price List | Fire Safety Compliance in NSW | Where to Locate an Extinguisher | Sydney Fire Safety Certificates | Annual Fire Safety Statement | Fire Safety Certificate Newcastle